Brockton High School
Class Of 1984
In Memory
Richard Saltmarsh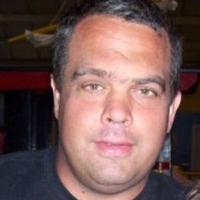 Richard H. Saltmarsh, Jr., 52, a longtime resident of Stoughton, died unexpectedly at home on Tuesday, October 16, 2018. He was the beloved husband of Joanne M. (Ottaviano) Saltmarsh for 16 years. Son of Richard H. Saltmarsh of Stoughton and the late Carleen (Grant) Saltmarsh, he was born in Falmouth and raised in Weymouth and Brockton. Richard was a graduate of Brockton High School, Class of 1984 and also attended Massasoit Community College. He was a landlord for Saltmarsh Family Trust for many years.
Richard was the loving father of Ashley N. Colon and her husband Ismael Colon, Jr., Amanda E. Saltmarsh, Abby L. Saltmarsh and Melissa Nickerson all of Stoughton and the grandfather of Alianna F. Colon, Landon M. Colon and the late Logan O. Colon. He was the brother of Lisa Anderson of Brockton. He was the uncle of Cynthia Puopolo and her husband James and the great-uncle of Preston and Ashton. He was the son-in-law of Donald Mack of Stoughton and the late Janet Mack.
Funeral Prayers will be offered from the Farley Funeral Home, 358 Park St., (Rt. 27) Stoughton on Wednesday, October 24 at 7 PM. Visiting Hours prior from 5-7 PM. Interment will be private. In lieu of flowers, donations in Richard's memory may be made to the National Alliance on Mental Illness (NAMI), 3803 N. Fairfax Drive, Suite 100, Arlington, VA 22203.
http://farleyfh.tributes.com/obituary/charities/Richard-H.-Saltmarsh-106512711?fbclid=IwAR0s94GfP7lNGmM2HSSnF0CvL3Ol0iLcsd39KTIYtsIBgVLzX2F0hfGTym4